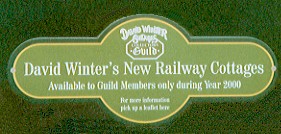 This year the theme for the David Winter Collectors Guild is "The Railways".



Everyone loves a country railway with its neat stations and colourful well kept gardens and buildings. The shining brass work of the small tank engines and the older but more homely carriages. The cuttings and embankments carpeted with wild flowers, viaducts darlingly built over deep gorges with gushing rivers. The much more gentle and calmer way of travelling whether it be for business, on the way to school or on holiday. The stationmaster, porters signalmen, engine drivers and of course the guard all working as a team with pride and satisfaction for the service they were there to provide not just for the traveller but for the whole community.



The country railway was an essential extension to the mainline. During the early 1900's small branch lines were being created all over the country linking small villages and towns to the big cities and industrial areas of Britain. Everything from farm produce to the tourist were catered for and even wayside cottages and farms took advantage the railway brought as whole communities were brought closer together.



So far David Winter has concentrated on village life of an age long gone. The railway became a major part of village life as everyone wanted their own station. But the railway not only became an essential part of village life the railway itself had its own way of life and community spirit. On the branch lines the arrival and departure of trains were not just recorded as just another event but it was also known exactly who the driver, fireman and guard were. The temperament of the individual engine and rolling stock would be known and catered for in an attempt to keep everything running smoothly. If a train was late there would be more concern for the people on it or a mild curiosity if it was for a sheep on the line than worrying about sticking to the timetable much to the annoyance of the officials from the big company who were more concerned with the needs and demands of mainline traffic.



In making the theme for this year's guild David has captured the very character of our railway heritage. From the architects who designed the stations, signal boxes and bridges, the navvies who built them and all the railway employees who kept everything moving.


---
Guild Membership Free Gift



The signal box serves as the control room at a junction just outside the station, but it is also a fully functional home, which is unusual indeed. Nowhere else in the entire railway network will you find a signal box that is also a domicile. It's a bit of an enigma really. How this came about is not very clear and various contradictory stories abound, so we won't debate that here.
Suffice to say, though, that the living accommodation within this building is "compact," which is actually a bit of an understatement.



The signalman's job carries a great deal of responsibility with it, for just one mistake on his part could have catastrophic results. Of course he is fully aware of this. Every time he pulls the heavy levers that control the railway lines and, ultimately, the movement of rolling stock, he does so with great caution. Does he enjoy his job? Of course he does. Like many of his colleagues, he has spent his entire working life on the railways, and he would swap the environment for anything else.


---
Guild Redemption Piece No. 27



If you ask the porter about his job on the railway, he is quite likely to reply with the following: "Lift it. Load it, unload it!" This is an apt description because the porter is very busy indeed. Always dressed in black trousers, black waistcoat, and neat pillbox hat, the porter is responsible for lost luggage. What a collection of unclaimed booty he has amassed. His collection of umbrellas is well into the hundreds. There are, though, some rather unusual articles in the lost luggage store like, for example, the wooden leg that has never been claimed!! And what about the various stuffed animals too!

He is not alone in his duties, for he has two assistant porters who very much follow his example of diligence. Mind you, being of a younger generation they do sometimes tend to take extended tea breaks, but one glimpse of him approaching gets them quickly back to work. As the head porter always says though: "they're not a bad couple of lads. In fact, they're both worth their weight in gold."


---
THE STATION MASTER'S HOUSE
Guild Redemption Piece No. 28



The station master is definitely king of all he surveys, and can be frequently seen on the platform, gold pocket watch in hand, checking the punctuality of arriving and departing trains. The son of a train driver, his career began as an assistant porter. From his lowly rank, he slowly worked his way through a variety of positions with the railway company until finally being promoted to the "plum" job a few years back. It goes without saying he is immensely honoured to be given so much responsibility.

He takes great pride in his station, which is kept spotlessly clean despite the soot that is being deposited by the steam engines that constantly pass through. In fact he has the best kept station on the entire network. The station master is a contented man for he is doing what he was born to do. In a nutshell, the railway is his entire life.


---
Other railway related cottages.....
This is a Limited Time Piece and is only available until the end of 2000



This is the house of a retired engine driver. His whole life has been spent working on the railways and now, with plenty of time on his hands, he indulges in his favourite pastime, train spotting! This building is most certainly not everyone's idea of the perfect place to live. With trains frequently thundering through the tunnel, and clouds of choking smoke surrounding the cottage, it is hardly a peaceful haven.

For our retired driver, though, it is paradise. He spends most of his day watching all of the action. On this particular line, night-time activity is nowhere near as intense as it is during the day, so he is able to sleep pretty well between midnight and 6 o'clock in the morning. At weekends, you might often find the trackside cottage deserted. Well, one has to get away from it all from time to time, doesn't one? Where does our man spend his weekends? Up and down the country visiting railway stations of course!


---
Year 2000 David Winter Appearance Piece



The Guard's Van is no longer used as rolling stock. Instead it has been cleverly incorporated in the home of the retired guard. During his long career on the railway, the old guard actually worked in this very van, when it was in service. A very strange quirk of fate happened during the week when he received his gold watch and headed home to a life of retirement. His faithful old van was also sent into retirement, having been replaced by newer, more modern rolling stock! Can you believe his delight when he was offered this piece of railway history as an additional retirement gift?
Well, he was certainly going to be kept grand enough to rival an Orient Express Pullman car. The retired guard spends many hours sitting outside his familiar, but now stationary, old friend.



The Guard's Van is only available during 2000 at special events where David is present. Like last year there are two versions the UK Version has pink & yellow flowers while the US/Canda version has blue flowers.


---
CASTERTON RAILWAY STATION
Limited Time Piece released in 1999.



Casterton Railway Station from David's collection of haunted houses, was inspired by Robert Aickman's spine chilling short story, 'The Waiting Room'. There have been many stories of haunted railway stations and phantom trains, but this particular tale has a different twist.



Our hapless traveller, having missed his connection, is cast adrift for the night in the gloomy, deserted waiting room at Casterton Station. His solitude is eventually relieved by a considerable company of people, one of whom is a woman with a beautiful singing voice. Naturally we begin to suspect that they are ghosts.



It won't be until the next morning when our traveller discovers that the station waiting room is built on the site of the old gaol burial ground. He will also discover that one of those buried there is Lily Torelli, known as 'the beautiful nightingale'.



In the meantime, take a grip of your nerves, stop shivering and light the oil lamp so considerately left by a porter. You will find it behind the station's rear door. Goodnight and sweet dreams!


---

Click here to read more about the History of Britain's Railways.